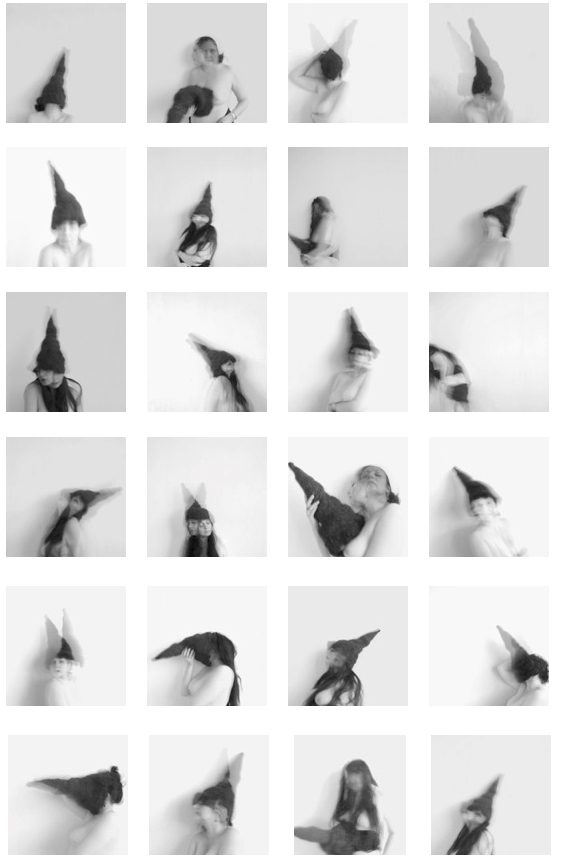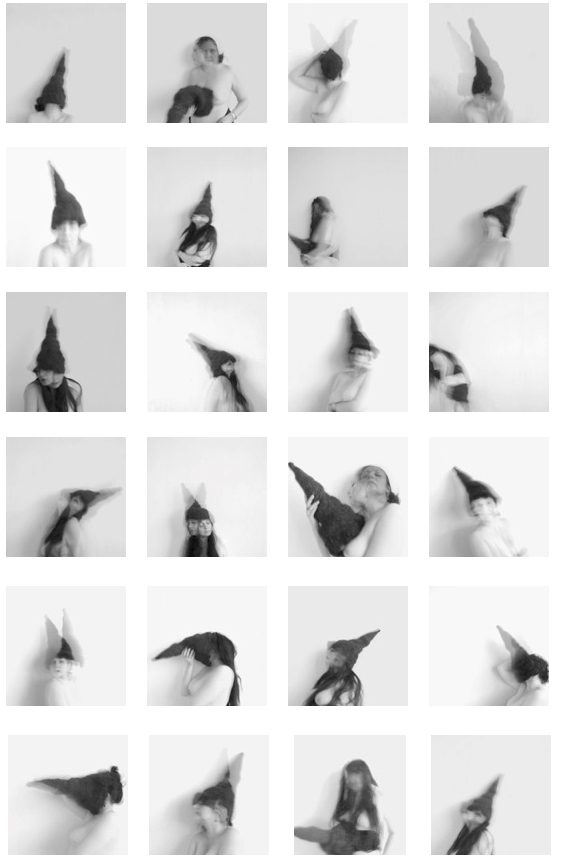 motion series 1 — 24
2011
24 archival pigment prints on matte Hahnemühle Fine Art papereach: 4 x 4 inches framed
In the motion series, part of the of the blur / motion / trans project, I am interested in the idea of the documentation of a performance for which there is no audience, and representations of myself as I can never see myself. The on-going sculpture winter 1992 — january 1998 — present functions as the central prop in the project— as prosthesis or extra appendage. I am both performer and recorder, object and subject.
motion 1
2011
archival pigment prints on matte Hahnemühle Fine Art paper
4 x 4 inches framed
motion 2
2011
archival pigment prints on matte Hahnemühle Fine Art paper
4 x 4 inches framed
motion 3
2011
archival pigment prints on matte Hahnemühle Fine Art paper
4 x 4 inches framed
motion 4
2011
archival pigment prints on matte Hahnemühle Fine Art paper
4 x 4 inches framed
motion 5
2011
archival pigment prints on matte Hahnemühle Fine Art paper
4 x 4 inches framed
motion 6
2011
archival pigment prints on matte Hahnemühle Fine Art paper
4 x 4 inches framed
motion 7
2011
archival pigment prints on matte Hahnemühle Fine Art paper
4 x 4 inches framed
motion 8
2011
archival pigment prints on matte Hahnemühle Fine Art paper
4 x 4 inches framed
motion 9
2011
archival pigment prints on matte Hahnemühle Fine Art paper
4 x 4 inches framed
motion 10
2011
archival pigment prints on matte Hahnemühle Fine Art paper
4 x 4 inches framed
motion 11
2011
archival pigment prints on matte Hahnemühle Fine Art paper
4 x 4 inches framed
motion 12
2011
archival pigment prints on matte Hahnemühle Fine Art paper
4 x 4 inches framed
motion 13
2011
archival pigment prints on matte Hahnemühle Fine Art paper
4 x 4 inches framed
motion 14
2011
archival pigment prints on matte Hahnemühle Fine Art paper
4 x 4 inches framed
motion 15
2011
archival pigment prints on matte Hahnemühle Fine Art paper
4 x 4 inches framed
motion 16
2011
archival pigment prints on matte Hahnemühle Fine Art paper
4 x 4 inches framed
motion 17
2011
archival pigment prints on matte Hahnemühle Fine Art paper
4 x 4 inches framed
motion 18
2011
archival pigment prints on matte Hahnemühle Fine Art paper
4 x 4 inches framed
motion 19
2011
archival pigment prints on matte Hahnemühle Fine Art paper
4 x 4 inches framed
motion 20
2011
archival pigment prints on matte Hahnemühle Fine Art paper
4 x 4 inches framed
motion 21
2011
archival pigment prints on matte Hahnemühle Fine Art paper
4 x 4 inches framed
motion 22
2011
archival pigment prints on matte Hahnemühle Fine Art paper
4 x 4 inches framed
motion 23
2011
archival pigment prints on matte Hahnemühle Fine Art paper
4 x 4 inches framed
motion 24
2011
archival pigment prints on matte Hahnemühle Fine Art paper
4 x 4 inches framed